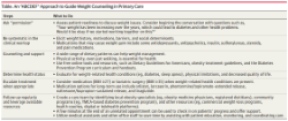 Obesity Treatment, Beyond the Guidelines: Practical Suggestions for Clinical Practice
STOP's Medical Director, Dr. Scott Kahan, published an article in JAMA this month proposing a convenient "ABCDEF" framework as a structure for approaching obesity management in clinical practice.

Check out the article here and let us know what you think.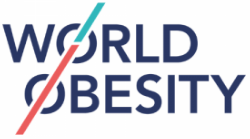 New SCOPE Module: Understanding Patient Perspectives on Obesity
SCOPE has announced the release of a brand new E-Learning module, 'Understanding Patient Perspectives on Obesity'. Authored by UK GP Dr. Rachel Pryke, the module provides personal viewpoints from both patients and healthcare professionals describing their feelings around fighting obesity and around professional support. It considers the challenges in fighting obesity and the reasons why maintaining weight loss can be difficult for many patients.

The module is available in English, Spanish, French and Portuguese, and can be accessed completely free of charge.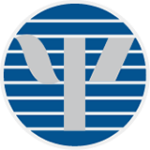 Clinical Practice Guideline for the Treatment of Obesity and Overweight in Children and Adolescents
The American Psychological Association has developed a new guideline for treating obesity in children/adolescents. The guideline recommends interventions for the treatment of overweight and obesity in children and adolescents aged 2-18. Recommendations are based on a systematic review of the scientific evidence, a weighing of the benefits and harms of interventions, consideration of what is known about patient values and preferences, and consideration of the applicability of the evidence across demographic groups and settings.
 
The website for the guidelines, including resources such as Weigh In and Why Weight, can be found at: https://www.apa.org/obesity-guideline/discussing-weight
Obesity Medicine Education Collaborative Releases Obesity-focused Competencies for Medical Education
The Obesity Medicine Education Collaborative (OMEC), made up of a partnership between the Obesity Medicine Association, The Obesity Society and the American Society for Metabolic and Bariatric Surgery, have released their obesity-focused competencies for medical education. The OMEC obesity-focused competencies are designed for clinicians (specifically prescribers) for whom a more detailed knowledge of obesity and its pathophysiology is required to medically manage obesity. These are meant to augment the work done by the STOP Obesity Alliance to develop the Obesity Care Competencies, which are less specific and designed for a variety of health care professionals, in addition to clinicians/prescribers, who are involved in the prevention and treatment of patients with obesity.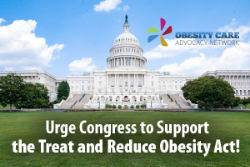 OCAN Advocacy Day Highlights TROA Reintroduction!
On Thursday, February 28, 2019, advocates from the Obesity Care Advocacy Network (OCAN) visited more than 100 congressional offices to encourage support for S. 595/HR 1530 — the Treat and Reduce Obesity Act (TROA), which was reintroduced in conjunction with OCAN's Winter Advocacy Day. During the day, 35 OCAN advocates met with congressional staff in the offices of 35 Senators and 66 House Members.
 
On the Senate side, Senators Bill Cassidy (R-LA) and Tom Carper (D-DE) are renewing their lead roles and are joined by original cosponsors Senators Blackburn (R-TN), Capito (R-WV), Coons (D-DE), Heinrich (D-NM), Klobuchar (D-MN) and Murkowski (R-AK). House champions for TROA in the 116th Congress are Representatives Ron Kind (D-WI), Raul Ruiz, M.D. (D-CA), Tom Reed (R-NY) and Brett Guthrie (R-KY) — legislators who sit on either the House Ways and Means Health Subcommittee or Energy and Commerce Health Subcommittee.
 
If you are interested in advocating for the passage of TROA, please access the Obesity Action Coalition's (OAC) Legislative Action Center to send a message of support for TROA to your Senators and local Representative.

New Hybrid Culinary Medicine Program
Become a part of the growing culinary medicine movement! Improve your home cooking with new culinary skills and enhance your nutritional competencies with patient-centered culinary training. Registration is now open for the hybrid version of Clinicians CHEF Coaching, which combines the virtual classroom with an onsite learning experience: start May 2 as part of the Lifestyle Medicine: Tools for Promoting Healthy Change Conference and continue with small group practice sessions delivered remotely via video conference.

Register and learn more about the Clinicians CHEF Coaching program.

Training graduates earn a "Certificate of Completion in Culinary Coaching" from the Institute of Lifestyle Medicine, Spaulding Rehabilitation Hospital, Harvard Medical School.

ASMBS Weekend Registration Open
ASMBS Weekend, June 20-22, 2019, is comprised of three full days of specialized surgical and integrated health courses in an intimate setting. This clinical symposium is designed for all professions involved in obesity prevention, treatment, and research. This year's meeting is in Chicago and features a special focus in robotics in bariatrics. Register online today.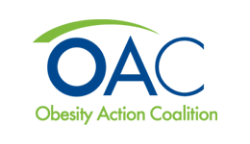 Register for OAC's Your Weight Matters Convention
The Obesity Action Coalition (OAC) is excited to announce that registration is now open for the 8th Annual Your Weight Matters Convention & EXPO, taking place August 1-3 in Tampa, along the award-winning Tampa Riverwalk!

With topics such as, "What the Science Tells Us about Weight-loss, Weight Gain and Weight Maintenance," "Exercise – How Much does it Really Take?" and much more, the YWM2019 Program Agenda is sure to captivate all those in attendance.
 
Single-day registration starts as low as just $50/day and Full Convention registration starts at just $105. Make sure to register by May 31st to access these Early-bird rates!
 
This year's Convention has been approved to offer up to 18 CE credits for nurses and some healthcare professionals. Single-day registration with CE credits starts as low as $75/day and Full Convention registration with CE credits starts at $155/day.
 
To learn more or register, please visit: www.YWMConvention.com.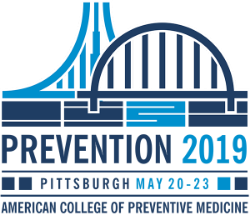 ACPM Annual Conference: Prevention 2019
Registration for the American College of Preventive Medicine's (ACPM) Annual conference, Prevention 2019, has opened. Discounted registration rates will be available through May 1. This year's program includes a meeting track on 'Lifestyle Medicine and Precision Public Health,' among others. Prevention 2019 will be held May 20-23 at the Omni William Penn in Pittsburgh, PA.