June is Employee Wellbeing Month
Employee Wellbeing Month spotlights the workplace's role in helping to create healthier, happier employees and human beings. The month highlights how wellbeing-minded organizations lead to more productive, engaged workforces and creates magnetic company cultures that drive recruitment and retention.  

Launched as National Employee Wellness Month in June 2009 by Virgin Pulse, the annual Employee Wellbeing Month toolkit is back and better then ever! This year, each week has a different focus to help educate and motivate your employees. Kick off your Employee Wellbeing Month now and get access to more than 30 printables, employee communications, videos, webinars and educational materials, including:
Promotional calendar
Suggested activities list
Emails, posters and digital displays
FAQ for employers
Newsletter content
Exclusive featured webinars
Get the Toolkit! 

Share what your organization is doing to support your people with the hashtag #PledgeWellbeing. Encourage your employees to share their wellbeing experiences using the hashtag #MyWellbeingMonth.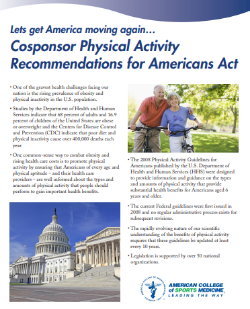 New Federal Legislation proposed: Physical Activity Recommendations for Americans (PAR) Act
Representatives Ron Kind and David McKinley and Senators Roger Wicker, Shelley Moore Capito, Sherrod Brown and Kyrsten Sinema introduced the Physical Activity Recommendations for Americans (PAR) Act.  H.R. 2891/S. 1608 would require the Secretary of Health and Human Services to publish a report called "Physical Activity Recommendations for Americans" at least every ten years based on the latest scientific evidence.  This will ensure that Americans of every age and physical aptitude – and their health care providers – are well informed about the types and amounts of physical activity that people should perform to gain important health benefits.

ASMBS Weekend Registration Open
ASMBS Weekend, June 20-22, 2019, is comprised of three full days of specialized surgical and integrated health courses in an intimate setting. This clinical symposium is designed for all professions involved in obesity prevention, treatment, and research. This year's meeting is in Chicago and features a special focus in robotics in bariatrics. Register online today.

Upcoming Obesity Short Courses
Please apply ASAP, as spaces are limited. Women, members of underrepresented minority groups, and individuals with disabilities are encouraged to apply.
Strengthening Causal Inference in Behavioral Obesity Research
July 29 – August 2, 2019 | Indiana University Bloomington
Identifying causal relations among variables is fundamental to science. Obesity is a major problem for which much progress in understanding, treatment, and prevention remains to be made. Understanding which social and behavioral factors cause variations in adiposity is vital to producing, evaluating, and selecting intervention and prevention strategies. This course will provide rigorous exposure to the key fundamental principles underlying a broad array of techniques and experience in applying those principles and techniques through guided discussion of real examples in obesity research.

Your Weight Matters Convention 2019
The Obesity Action Coalition (OAC) is excited to announce that registration is now open for the 8th Annual Your Weight Matters Convention & EXPO (YWM2019), taking place August 1-3 in Tampa, Florida. The YWM2019 Program Agenda is sure to captivate all those in attendance. The Convention offers:
Real Experts – Top-notch weight and health education presented by the nation's leading physicians, researchers, scientist and other industry experts.
 
Real People – Meet People invested in their health and who and care about the issues surrounding obesity and weight. 
 
Real Support – Whether from a speaker who is also a health care provider to the new friend you met chatting before a session, YWM2019 is a welcoming, safe place to seek education and support.
This year's Convention has been approved to offer up to 18 CE credits for nurses and some healthcare professionals. Single-day registration with CE credits starts as low as $75/day and Full Convention registration with CE credits starts at $155/day. We strongly encourage health professionals to check their eligibility prior to registering to earn CE Credits at the Convention. To determine your eligibility, contact Taylor College at 1-800-743-4006 and reference the Your Weight Matters Convention & EXPO.

To learn more or register, please visit: www.YWMConvention.com.

American Board of Obesity Medicine announces more than 720 new diplomats: Total number of board-certified doctors reaches 3,370+
The American Board of Obesity Medicine (ABOM) announced that a record 726 physicians passed its board certification test administered in February 2019, establishing obesity medicine as one of the fastest growing fields in medicine. This represents a 27 percent increase in the total number of ABOM diplomates compared to the previous year. The number of first-time ABOM certificates issued annually now exceeds those of other fields such as infectious disease, endocrinology and rheumatology. The number of physicians who are board certified in obesity medicine now exceeds 3,370 in the United States and Canada. According to Dr. Rekha Kumar, medical director for ABOM, board certification sends a strong signal to patients and referring physicians in the community that the diplomate is prepared to help address the complex challenges that obesity presents.  

If you are interested in applying for the 2020 ABOM certification exam on February 24-27, below are some tips for how to complete requirements, apply and prepare:

Step 1. Create an account in the ABOM application portal.

Step 2. Upload documentation to support the minimum requirements
Active medical license (US or Canada)
Active certification in an ABMS board (US only)
Proof of completion of residency in the US or Canada
Step 3. Determine when and where you will accumulate the required 30 GROUP ONE CME credits.

Step 4. Accumulate and upload additional CME so you have the required 60 total CME credits (30 GROUP ONE credits and 30 additional credits) by the application deadline.

Step 5. Mark your calendar so you don't miss the application deadline.
Early deadline: October 15, 2019 (Save $250)
Final deadline: November 15, 2019
Exam window: February 24-27, 2020 at Prometric Computer Test Centers
Step 6. Explore the test content outline and the exam resources section of the ABOM website to become familiar with topics covered on the exam. The test consists of four one-hour blocks of 50 questions each (total test time of 4 hours and 200 questions).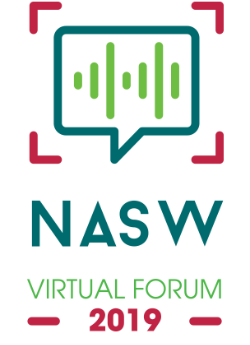 National Association of Social Workers 2019 Virtual Forum: Trauma Through the Social Work Lens
June 19-20, 2019
The personal response to traumatic events widely varies, some deep rooted and hard to heal. Presenters will offer a deeper understanding of the way in which past traumas impact a client's current level of functioning and will provide tools to recognize, assess and treat trauma. The full agenda and registration are available at https://virtualforum.socialworkers.org/.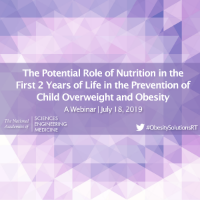 Upcoming Webinar: The Potential Role of Nutrition in the First 2 Years of Life in the Prevention of Child Overweight and Obesity
When: Thursday, July 18 | 12:00 PM-1:15 PM ET
Watch: This event will be webcast live 

The Roundtable on Obesity Solutions is hosting a 75-minute webinar that will explore the role of infant and early childhood nutrition (birth to <2 years of age) related to healthy growth and the prevention of overweight and obesity later in childhood. Presentations will feature the current prevalence and trends of high weight-for-length in infants and young children, the state of the science on nutrition-related modifiable risk factors, and obesity prevention interventions that address healthy growth, with a special emphasis on reducing disparities in populations with above-average obesity risk.

American Fitness Index
The American Fitness Index, published by the American College of Sports Medicine (ACSM) and the Anthem Foundation, evaluates America's 100 largest cities using 33 health behaviors, chronic diseases and community infrastructure indicators. The ACSM/Anthem Fitness Index is used as an assessment and evaluation tool to educate community leaders on the importance of key indicators of physical activity. For information on the rankings, a summary of the report and an infographic on the ACSM/Anthem Fitness Index, visit: https://americanfitnessindex.org/

Villanova University Offers CE Focusing on Medical Marijuana
On June 6th, Villanova University is hosting a seminar titled: An Interdisciplinary Approach to Caring for Patients taking Medical Marijuana. This day-long seminar will educate clinicians in various disciplines – nursing, pharmacy, medicine, social work, nutrition and law – to expand their knowledge base and ability to safely treat and manage these patients, and to become cognizant of legal ramifications while caring for patients who have been certified to use cannabis products.

For more information and to register, visit: www.villanova.edu/nursing/ce
News from the CDC
CDC Funds Childhood Obesity Research Demonstrations
With funding from the Healthy Kids Act of 2018, the Centers for Disease Control and Prevention (CDC) is funding five recipients through the research funding opportunity "Packaging and Spreading Proven Pediatric Weight Management Interventions for Use by Low-Income Families," the third Childhood Obesity Research Demonstration (CORD 3.0) project. CORD 3.0 builds on prior research demonstration projects that implemented community-based models for reducing obesity among children from lower-income families.
 
CORD 3.0 funds five recipients at a total of $12.5 million over five years. The recipients are:
Massachusetts General Hospital, Boston, MA
Miriam Hospital, Providence, RI
Stanford University, Stanford, CA
University of Nebraska Medical Center, Omaha, NE
Washington University in St. Louis, St. Louis, MO
The CORD 3.0 research teams will build on current programs that have been shown to improve children's health but often don't reach the children most in need. Recipients will adapt and test programs using implementation science, resulting in user-friendly, "packaged" materials that healthcare, community, or public health organizations can use to serve low-income children and their caregivers.
 
CDC Reports on School Vending Machines
School vending machines are one source of food and beverages for students but often have items of poor nutritional value. As part of the School Health Policies and Practices Study, 2014, CDC analyzed photographs of a nationally representative sample of school vending machines available to students prior to the Smart Snacks implementation. Key findings include:
Descriptions of machine type.
Prevalence of specific foods and beverages.
Marketing on machines.
 
CDC Examines Trends in PE in Schools
In collaboration with the National Physical Activity Plan Alliance (NPAPA), CDC Healthy Schools worked with experts in the federal government, industry, and academia to better understand physical education (PE) exposure among US students. CDC and the NPAPA examined trends in PE attendance and PE policies. Key findings include:
The percentage of US high school students reporting PE attendance did not change significantly between 1991 and 2015.
Data indicates that minority students have been disproportionately affected by cuts to school PE programs during the past two decades.
Many schools are only implementing a few of the PE policies that can strengthen their PE programs.
More information can be found on the NPAPA website.